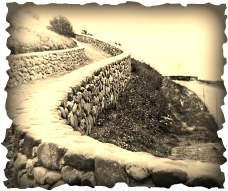 Green Lake Conference Center is a beautiful year-round Christian conference center set on the deepest lake in Wisconsin with a rich and interesting history dating back to the early 1800s.

Winnebago Indians, Pioneer Settlers, a wealthy Chicago couple, a Chicago development company, American Baptist visionaries and Christian leaders of today are all part of this special and spiritual place where God moves and people connect.
---
Winnebago Indians

The first people to walk our grounds were Winnebago Indians. By the early 1800s as many as 500 Indians camped around Green Lake. Believing the Water Spirit lived in Green Lake, every Winnebago had to come here once in their lifetime to worship.

Pioneer Settlers

Chris Briswold and his family constructed a Log Cabin in the mid 1840s on an 80 acre parcel of land in a part of what is now the conference center's property. Their log cabin still stands in the back of the property. When you see the size of this one room cabin, you wonder how Chris, his wife, and five children could ever exist in such a small area!

Lawson Era

Victor Lawson, a "printer's devil" in Chicago, was the successful publisher of the Chicago Daily News. He met his eccentric wife Jessie in the church choir. They honeymooned in Green Lake.

In the summer of 1888, Jessie took friends for a boat ride on Green Lake. A sudden storm caused the captain to put in on Lone Tree Point, named because of the large cottonwood tree at its end. There, huddled in a shack, Jessie decided to purchase the very spot as a refuge from the pressures and harried life of the city.

Before the year was over the Lawsons had purchased 10 acres, including the point, and Lone Tree Farm was begun.The Lawsons added farm to farm until the estate included more than 1,100 acres.

As the primary developer, Jessie spent several million dollars building a spacious home, 12 miles of paved roads, two sets of farm buildings, a boat house, two greenhouses, a powerhouse, seven water towers, a small golf course, and homes for her workers. The Guernsey barn (1916) with its two silos is the largest barn in Wisconsin. She maintained horses, pigs, sheep, and herds of both Guernsey and Jersey cattle.

Lawson's boat, No Hurry (1905) is one of only three made by the Electric Launch Company and was operated by two electric motors powered by 140 batteries. The other two boats were sold to Thomas Edison and Czar of Russia. It was purchased and returned to the Center in 1995 for permanent display and is in a state of ongoing restoration.

The large water tower (1908) dominated the landscape and is now named in honor of pioneer Baptist missionaries Ann & Adoniram Judson. Its observation platform is 140 feet above the lake. Its 75,000 gallon tank was filled from a 400 foot well near the boat house. Water from the towers irrigated fields and roads with horse-drawn sprinklers. Kansas Baptist Youth organized a drive to place the lighted cross that sits on top of the tower today - a beacon to our guests and local residents across the lake. Carillons play every hour.

The Boat House (1910) was inspired by one Jessie saw in Switzerland and the green tile on the roof came from Italy. It was built by Mrs. Lawson to accommodate their large boat and re-charge its batteries.

Bruce Kinney Lodge (1910), a bull barn in the Lawson era, was renovated and is used for guest housing.

The Tea House (1910), overlooking Green Lake, was the "Tee House" for Jessie's nine-hole golf course. It is now used for meetings and picnics.

One of Jessie's most expensive projects was the development of the greensward and the island off Lone Tree Point. Two summers and an investment by the Lawsons of eight million dollars was required to complete it. Mrs. Lawson died in 1914, and Mr. Lawson continued to maintain the estate until his death in 1925, when it was sold by heirs to the H.O. Stone Company of Chicago.

Stone Development Company

The Stone Company spent another $3 million developing a luxury gated resort in the late 1920s and early 1930s. They constructed what is now Roger Williams Inn (1930) with 81 guest rooms, a dining room, bar, casino, an outdoor swimming pool, and the Links golf course – in magnificent Scottish links style. Walter Hagen was in the first foursome to play the new course. Ben Hogan, Byron Nelson, Sam Snead and Vince Lombardi have also played the Links. Twenty-five fine homes were built as well.

As a result of the stock market crash in 1929 and the Great Depression which followed, buyers for more lots failed to materialize and Lawsonia went into receivership in 1931. The bank holding the mortgage operated it for about 10 years, but gas rationing during World War II and the continued stringencies of the depression forced it to close the gates and seek a buyer who would take it off their hands.

Temporary WWII German POW Camp

From June until October 1944, the U.S. Government rented William Carey Barn by the front gates and some cottages as a temporary camp for German prisoners of war. Approximately 400 POWs were housed here and worked at nearby canning factories.

Baptist Assembly is Born

Jessie's dream of 1888 was matched by the dream of Dr. Luther Wesley Smith. In the summer of 1943 Dr. Smith, Executive Secretary of the American Baptist Board of Education and Publication, asked David Witte, of the Wisconsin Baptist State Convention staff, about finding a place where his dream for a national conference center could come true. Witte mentioned a "fabulous former estate" at Green Lake. With typical fervor Dr. Smith persuaded the caretaker to let him take a look. By the end of the year he had enlisted the aid of James L. Kraft of Kraft Foods, Inc., as well as leaders of the denomination. Lawsonia, valued at $11 million, was purchased for $300,000 in December, 1943.

Baptist youth held the first conference in June 1944. A dozen other conferences followed in the first season and the slogan "For a Closer Walk with God" was adopted. The conference center became a key meeting place for great Baptist leaders. Dr. Martin Luther King, Jr. spoke at Green Lake July 23, 1956. His address was titled "Non-aggression Procedures to Inter-racial Harmony" as he began to articulate this new way to resist racial injustice in the midst of the Montgomery bus boycott.

Click here to read his speech

. He also spoke at the National Missions Conference at Green Lake in 1957.

Green Lake Conference Center has been busy the last 20 years investing in improvements to provide great facilities for guests in this beautiful location. This includes the construction of Kern and Bauer Lodges, Carroll Youth Center, three cottages, the renovation of most pre-existing accommodations and the construction of a new dining room, welcome center and internet café, moving us another step closer to our goal of being the best Christian conference center in the country.

There is a powerful sense of God bringing a spiritual revival to Green Lake at the beginning of the 21st Century. A key component has been the Center for Excellence in Congregational Leadership (CECL) which began in 2003. CECL enabled pastors and lay leaders to realize God's full potential for their churches through transformational teachings by leaders including Leighton Ford, H. B. London, Jill Briscoe and Leonard Sweet. Small groups provided the support and accountability to drive change.

We also host conferences on topics ranging from Ministry to Women in Prostitution, to Marriage, to a Church Planter's Assessment Center. Recent leaders have included Dr. John Trent, Philip Yancey and Sara Groves. Further, churches and denominations continue to hold their conferences at Green Lake, bringing great speakers such as Leith Anderson, Henry Blackaby and Joe Stowell.

We are passionate about connecting great leaders to create Christian leadership training experiences which help pastors and churches realize God's dreams for them. We also love to provide our guests with great experiences at this place where God moves and the Holy Spirit works. People connect at Green Lake with God and with others in catalytic relationships.

We enjoy hosting a wide variety of other non-profit and educational groups including university retreats, school environmental education groups, non-profit training meetings and many others.

---

If you are interested in books detailing of the history of the estate and conference center, visit or call Worldwide Gifts at (920) 294-7313 (open spring through fall).

Listen to Judson Tower carillons:


Photos used with permission from the Dartford Historical Society, Green Lake Conference Center archives and John Shih/JCreativeStudio LLC.